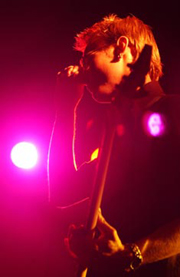 The following is an excerpt from an early draft of Crime and Punishment by Fyodor Dostoyevski. It was discovered in a second hand bookshop in Omsk, Siberia near the site of the convict prison where the author had been incarcerated for is involvement in the 'Petrashevsky circle'.
… Raskolnikov gave his ironic smile again. He had at once realised what was going on and towards what he was being pushed; he went over the article in his mind. He decided to accept the challenge.
"No, that's not quite what I wrote," he began in a modest, unassuming tone. "Actually, I will admit that you've given an almost correct account of my idea… but I don't at all insist that 'extraordinary' people are in all circumstances unfailingly bound and obliged to commit "all sorts of atrocities", as you put it. All I did was allude to the fact that an 'extraordinary' person has the right… not an official right, of course, but a private one, to allow his conscience to step across certain boundaries.
"Take Mark, for example. He is the thin and attractive bass player from Melbourne-based satirical rock band, Man Bites God. He may very well be the finest example of an 'extraordinary' person."
"Go on." Porfiry Petrovich was intrigued.
"Very well," smiled Raskolnikov as he casually began to sketch out a diagram.
"As you can see, not only does he play bass but sings, plays guitar, recorder and harmonica as well. And not just with Man Bites God, either. Do you know that his session work has led him to play bass with Brisbane troubadour and former Weave front-man Wesley Davidson? Do you know that, together with Nick de Zilwa, (Elmore, Nicholas Roy) he writes and performs powerful and emotive laid-back pop under the name The Weekend People, and performs indie folk-pop with Duckdive? Do you know that on top of all this, he still manages to find time to be the brains behind Man Bites God's award winning website?"
"I had no idea," gasped Porfiry, beads of sweat rolling down his face.
"It's all true. So many admirable qualities in one so young. In fact, I would say that Mark, who is an award-winning essayist, transcends the mere 'extraordinary' and consequently any actions of his are justifiable!" exclaimed Raskolnikov.
"What?!" cried Porfiry. "Even using his English degree as some sort of license to re-write classic literary texts?"
"Exactly."
"Even re-writing those texts so he can use them instead of writing a normal bio for a website?"
"Yes, of course."
"Even murdering an old pawnbroker woman with an axe, out of some deranged, misguided sense of piety and out of interest for 'the greater good' claiming, all the while, that 'the end justifies the means'?"
"Hey, let's not go nuts."
"Sorry."