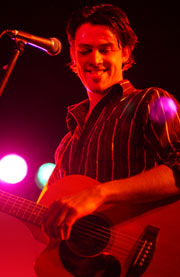 JAMES (a play by James)

Beautiful Girl: [entering] Where's James?
Chris: [eager] Do you mean the guitarist and singer from our group, Man Bites God; who also plays piano and 'cello on our albums?
Beautiful Girl: Yes.
Mark: [also eager] And do you mean the guy who plays cello for serious alternative musicians, The Ang Fang Quartet and folk artist Chloe Hall? And the writer/performer for Melbourne cult comedians The Drowning Hitlers?
Beautiful Girl: Yes.
Chris: [excited] It's amazing that James does all of these things and still finds time to compose scores for TV, radio, film and the Internet, isn't it?
Mark: [also excited] Ooh yes, Chris! I get hard just thinking about it...
Beautiful Girl: I met James while he was recording one of his upcoming instrumental albums. They're melodious, original and experimental.
Mark & Chris: [in unison] They sure are!
Beautiful Girl: [exiting] If you see him, tell him I want him to undress me and make me all squidgy with passion.
Mark: [to Chris] How is it that James gets all the girls?
Chris: [resigned] I guess he IS the talented and handsome one…
Mark: Yes.
Mark & Chris: [in unison] Oh God! Where is he? Our lives are empty without him.
James: [entering, casually] Here I am, boys!
Mark and Chris fall to the ground, emitting low groans of pleasure.
THE END.