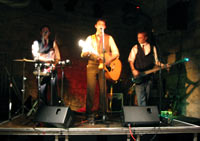 Man Bites God is an upbeat, fun, busker-rock band from Melbourne. Their music is catchy and melodious and their lyrics are funny and clever. Their songs are a mix of pop/punk/rock, with cool harmonies and lush arrangements. They have toured nationally and internationally, playing with The Whitlams, Deborah Conway, Dan Brodie, Sophie Koh, Mental As Anything,
Vika and Linda Bull, Flight of the Concords, The
Scared Weird Little Guys and many others.
The Sydney Morning Herald calls the music of Man Bites God "inspired pieces of wackiness and outrage set to a sharp, jangly pop sound reminiscent of Britpop at its
brightest".
Discovered in Melbourne in 2000 by Dan Brodie, Man Bites God have spent the best part of a decade making quirky, clever rock/pop music. Their new album is called Peppermint Superfrog and it is an exciting mix of punk, electronica, rock and pop. The songs are fast moving and fun, with lyrics that are surreal, quick-witted and quickly delivered. Check it out:
"Pop songs the way they should be - short and sharp, with an energy that leaps out of the speakers…from punk to electro, Peppermint Superfrog is a genre-busting delight… like going 15 rounds with pop heavyweights. It'll leave you exhausted and
exhilarated." Jeff Jenkins (JB Hifi Mag)
Told you.
Man Bites God's live shows are always frenetic and fun. Here's what some lovely members of the national and international press have said about them:
"endearing and harmonious... lunatic lyrics and melodic absurdity works well and will undoubtedly give rise to other acts singing from the same hymn sheet... covering a range of styles from barbershop through rock, folk and funk, the songs would have Spinal Tap in a spin... these Melbourne lads can play with more talent than many chart toppers" - The Scotsman
"Their music is a smorgasbord of styles and has lyrics that lurk in dark, satirical places... intellectually crafted songs... Man Bites God packs an irreverent punch" – The Age
"infectious rock melodies & a '60s boy-band bent" -Adelaide Advertiser (AUST)
"decent pop songs aren't often funny and funny pop songs aren't often decent, but Man Bites God are all about having the best of both worlds, with their eclectic mix of tunes with a dark, satirical edge" - Forte Magazine (AUST)
"gorgeous harmonisation... boyish charm... they've gotthe right mix" - ThreeWeeks (UK)
"Man Bites God are the pinnacle of a twisted sense of humour." – Undercover (AUST)
---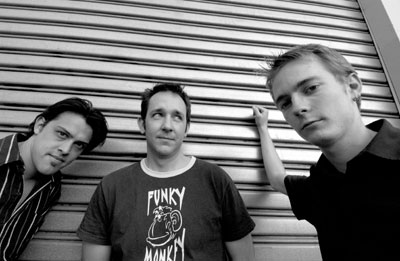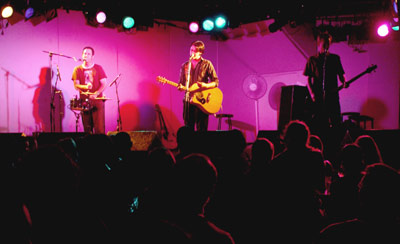 But enough about them... let's talk about you. This might not be the time or place, but you are the most beautiful visitor we've ever had at this site. This may sound crazy, but I long to kiss you. Please my love, press your wet lips to your monitor until your lovely spittle makes the screen all streaky... oohhh... God yes... hmm... anyway, Man Bites God are really quite good.