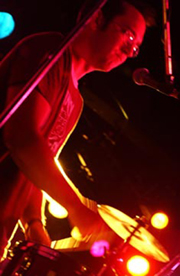 MAN BITES GOD DRUMMER APPLICATION
NAME: Chris
TALENTS: None.
OCCUPATION: Drummer, singer, writer, comedian, black-skivvy wearing filmmaker, method actor, whatever I can scam my way into, really.
NICKNAMES: Nerdy pants, Nerdy head, Nerdy bum, Piss.
TELL US MORE ABOUT YOURSELF: I have been writing and performing comedy for 9 years with the Gorskys. We have performed live in theatres, pubs, universities and a pizza hut in Adelaide. We also run one of Australia's most popular, award-winning entertainment websites - GORSKYS.COMedy.
HAVE YOU EVER BEEN INVOLVED IN THE MELBOURNE INTERNATIONAL COMEDY FESTIVAL OR ANY OTHER UNDERGROUND MOVEMENT? Yes. Since 1992.
OTHER EXPERIENCE THAT MIGHT MAKE YOU WORTHWHILE TO THE BAND: I can play Stairway to Heaven on kazoo.
CLAIM TO FAME: I once starred in a television commercial alongside Rove McManus of Channel 10's Rove Live before he sold out to a lifestyle of fame and fortune and adventure... oh god - the pain... the pain...
WHY SHOULD WE CHOOSE YOU TO BE OUR DRUMMER? I am a very good drummer. Recently I learnt how to drum with both hands.
OTHER REASONS: I have also attached $100 cash to this form.
REFEREES: I have a note from my Mum.
DID YOUR MUM GIVE YOU PERMISSION TO BE IN THIS BAND: Yes. But I told her it was Crowded House